Fraud Watch


DONATION FROM AVANGRID RENEWABLES
On August 16, 2016, The Groton Police Department received a check in the amount of $2,000.00 from Avangrid Renewables through a grant to be used for the purchase of soft armored vests. Chief Thompson is seen wearing the vest in the picture below. Thank you Avangrid Renewables for your continued support to the Town of Groton!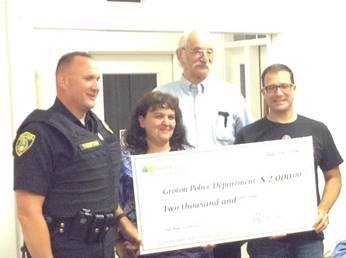 PUBLIC SERVICE ANNOUNCEMENT FROM THE GROTON POLICE DEPARTMENT

The Groton Police Department received two separate reports of improper disposal of hypodermic needles along North Groton Road. The police department located and properly disposed the needles.

If you see a hypodermic needle on the ground or along the road, please do not touch it. Please call the Groton police station at 744-3703 and let us know where the needle is located, so that we can pick it up and properly dispose it.





FACEBOOK SCAMS


Beware of scam emails from Facebook. There are a number of them out there right now stating "Congratulations from Facebook". Click here for an example or log onto https://www.facebook.com/pages/Latest-Scam-eMails/114458841959392.