Select Board
•
Resources
•
Announcements
•
Budget
•
Town Officials
•
Planning Board
•
Citizens Planning Committee
•
Transfer Station
•
Zoning
•
Annual Report
•
Conservation Commission
•
Town Clerk / Tax Collector
•
Calendar
•
Community Events
•
Groton Police Department
•
Employment Opportunities
•
Welfare
•
Emergency Information
FOOD AND CLOTHING DRIVE
The Town will be accepting donations of winter clothing and non perishable food items during the month of December. If you would like to donate, there are bins located at the Town House. Once we start to collect winter clothing, you are welcome to come to the Town and take the winter clothing that you need. Any items that are left over will be donated. Thank you!
**WINTER REMINDERS**
Now that winter has arrived, the Select Board and the Highway Department want to remind you of the following items:
<![if !supportLists]> · <![endif]> Residents are allowed to take three 5-gallon buckets (15 shovels full) of sand for their residence in Groton only. The use of town sand for commercial sanding or in mechanical sanders is not allowed.
<![if !supportLists]> · <![endif]> Please make sure you park your car at least 4 feet of the road side to allow for plowing. All residents are required to follow the Town Parking Ordinance which states under Parking Restrictions, section D: Snow Removal: No vehicle shall be parked on any street maintained by the New Hampshire Department of Transportation or the Town of Groton in such a manner so as to impede snow removal. No person shall stop or cause to be stopped, or park any vehicle, so as to impede or interfere with the proper snow clearing operations of the NH DOT or Town, when snow removal operations are in effect. As you are aware, snow removal operations are currently in effect. All vehicles found in violation of this ordinance may be removed (towed) and costs of such removal and subsequent storage of removed vehicles shall be at the expense of the owner of the vehicle.
<![if !supportLists]> · <![endif]> If you plow, snow blow or shovel snow from your property into the road, you are required to clean it up and will be held liable for any injuries or damages caused by those conditions if you do not clean it up. As stated in the Winter Maintenance of Roads and Sidewalks that New Hampshire Municipal Association (NHMA) put out, an abutter might, for instance, blow snow onto the sidewalk or into the road, or create runoff from melting snow on a roof that flows onto the sidewalk or road and freezes. In that case, the abutter may be held liable for any injuries or damages caused by those conditions. Ritzman v. Kashulines, 126 N.H. 286 (1985). Moreover, the municipality can require the abutter to correct conditions they have caused to the public sidewalk or road, or to pay the municipality's costs in doing so. Directing water onto a sidewalk or road may cause ice to form and make the sidewalk or road dangerous for public use; this is considered a "violation" under the law, and the abutter may be fined by a court. RSA 236:19. Municipalities may notify the abutter of the problem and request them to correct it. RSA 236:35. If the abutter does not comply, the municipality can correct the situation itself and a court may order the abutter to repay the municipality the costs of responding to the situation. RSA 236:29; RSA 236:32; RSA 236:39.
MEET THE GROTON POLICE CHIEF
Congratulations to the new part-time Police Chief, Michael Bagan. He was sworn in on Tuesday, November 5, 2019 and will be getting set up in his office starting Wednesday, November 13, 2019. Feel free to come by and say hi! We are excited to welcome him to the Town of Groton!!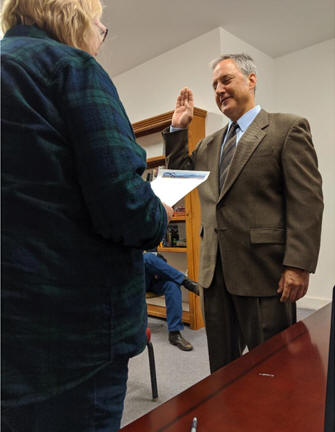 CURRENT USE 2019 PUBLIC FORUM SCHEDULE/AGENDA
Click here to view the Current Use Board 2019 Public Forum Schedule and Agenda.
DRY HYDRANT
The Town of Groton has installed a dry hydrant on North Groton Road near the cemetery to assist with firefighting services on the north end of Town. Thank you to the Town employees that worked on this project and a very big thank you to Avangrid Renewables for their donation for this project. Avangrid Renewables donates to the town in many ways and without their continued support, this project, along with other town activities, would not be possible!
Thank you for all you do for the Town of Groton!!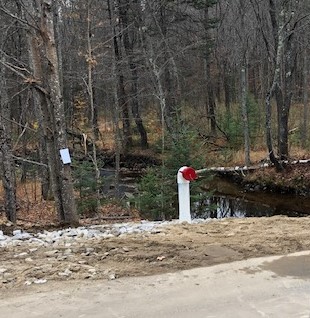 FREE BOOKS, DVD'S, ETC:
There are books, tapes, DVD's and more that are free for the taking. These items are located in the old Groton Library at the Town House. Please read the signs and take what you want. Enjoy!!
TAX INFORMATION NOW AVAILABLE ONLINE

Your tax information is now available online. Please visit the New Hampshire Tax Kiosk. See the button below. When you are done with your session you may log off to visit other Towns around the State to compare our tax rate. Please contact the Tax Collector if you have any questions about this process.

<![if !vml]> <![endif]>

911 REFLECTIVE ADDRESS SIGN

On April 10, 2019 The Hebron Fire Dept. hung their last Red 911 Reflective Sign. However, just because the Hebron Fire Dept. is no longer making and hanging the Red 911 Reflective Signs does not mean it is to late for you to get one. The Hebron Fire Dept. has made an agreement with the Bridgewater Fire Dept. who makes the exact same sign. They will make a sign for you at the same price ($15.00) the only change is you will have to install it yourself. They are located on Route 3A on the way to Bristol just past the Bridgewater Inn. Their telephone number is 744-6047 and their station is manned Mon.-Fri. during business hours.

You will be pleased to know of the approximate 500 properties in Groton with buildings on them 107 have Red 911 Signs (in other words 20% of the town) Congratulations to the Groton Residents who helped us and ordered the signs.. They are a significant factor in our getting to you faster in an emergency. We would encourage anyone without one to seriously think about getting one.

MEALS ON WHEELS

If anyone in Groton is interested in receiving Home delivered meals (Meals on Wheels) 2-3 times a week, please contact Lisa Minickiello at 603-536-1204.

SCAM ALERT FROM NEW HAMPSHIRE ELECTRIC COOPERATIVE (NHEC)

PROPERTY FRAUD ALERT FROM GRAFTON COUNTY REGISTRY OF DEEDS